Bildübersicht Kalender 2020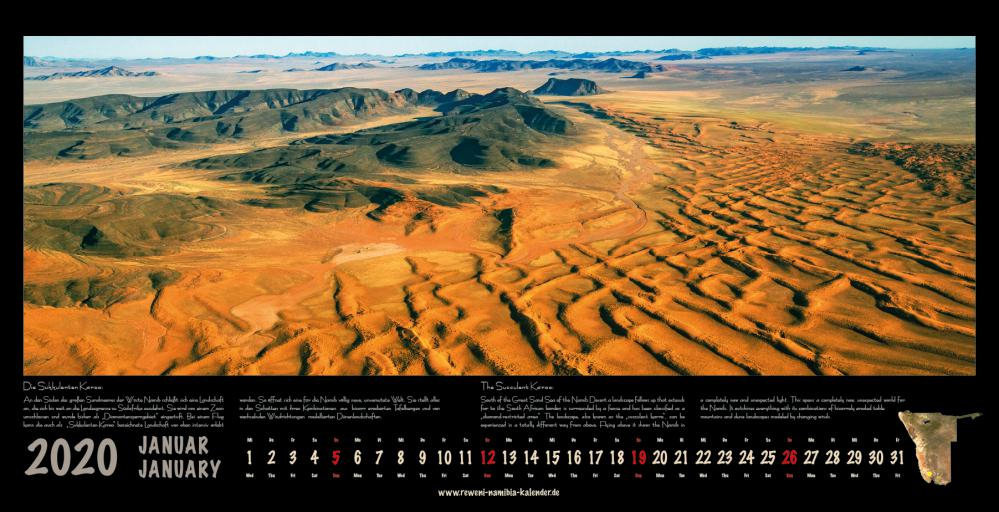 Die Sukkulenten Karoo:
An den Süden des großen Sandmeeres der Wüste Namib schließt sich eine Landschaft an, die sich bis weit an die Landesgrenze zu Südafrika ausdehnt. Sie wird von einem Zaun umschlossen und wurde bisher als "Diamantensperrgebiet" eingestuft. Bei einem Flug kann die auch als "Sukkulenten-Karoo" bezeichnete Landschaft von oben intensiv erlebt werden. So öffnet sich eine für die Namib völlig neue, unvemutete Welt. Sie stellt alles in den Schatten mit ihren Kombinationen aus bizarr erodierten Tafelbergen und von wechselnden Windrichtungen modellierten Dünenlandschaften.

The Succulent Karoo:
South of the Great Sand Sea of the Namib Desert a landscape follows up that extends far to the South African border, is surrounded by a fence and has been classified as a "diamond-restricted area". The landscape, also known as the "succulent karro", can be experienced in a totally different way from above. Flying above it shows the Namib in a completely new and unexpected light. This opens a completely new, unexpected world for the Namib. It outshines everything with its combinations of bizarrely eroded table mountains and dune landscapes modeled by changing winds.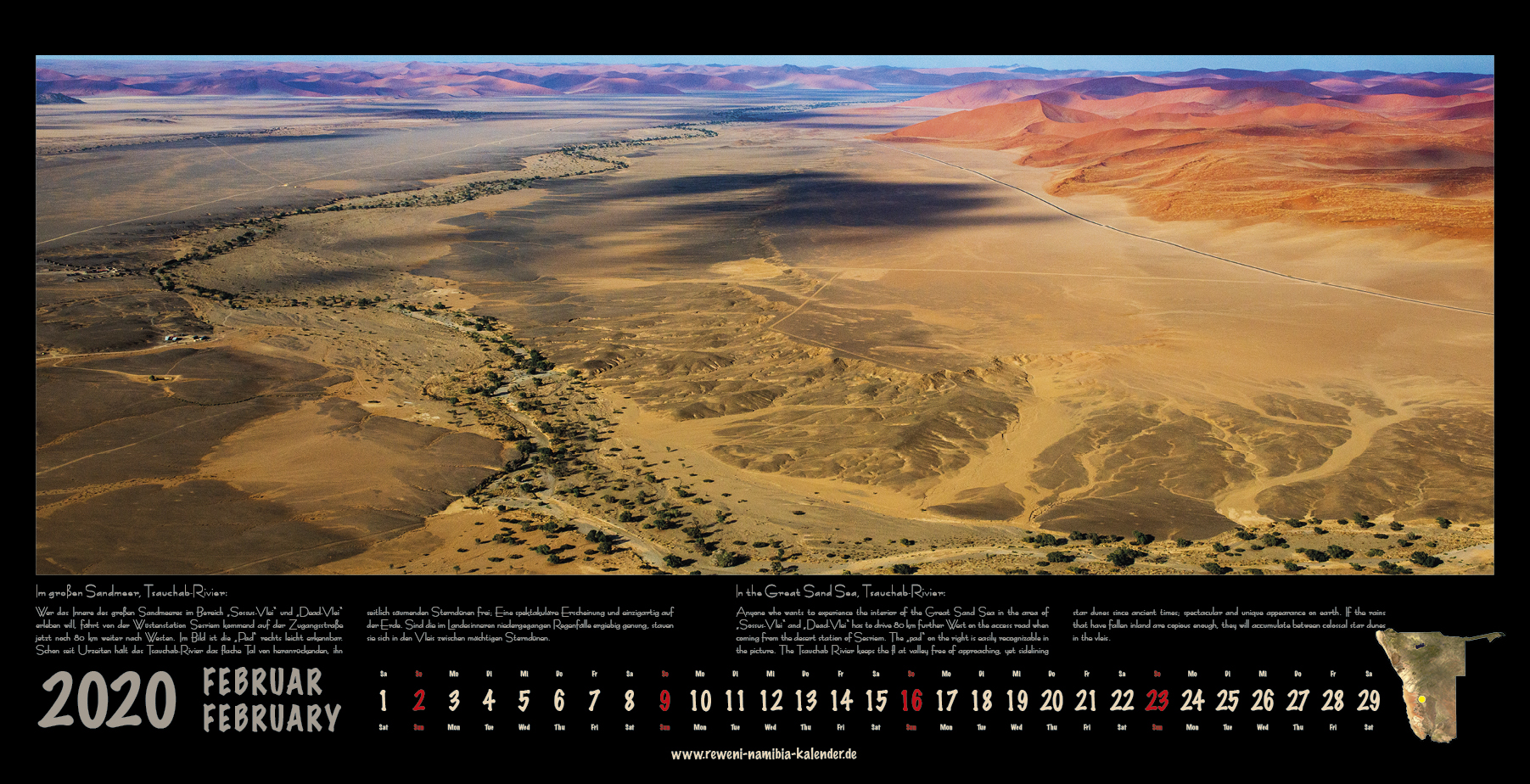 Im großen Sandmeer, Tsauchab-Rivier:
Wer das Innere des großen Sandmeeres im Bereich "Sossus-Vlei" und "Dead-Vlei" erleben will, fährt von der Wüstenstation Sesriem kommend auf der Zugangsstraße jetzt noch 80 km weiter nach Westen. Im Bild ist die "Pad" rechts leicht erkennbar. Schon seit Urzeiten hält das Tsauchab-Rivier das flache Tal von heranrückenden, ihn seitlich säumenden Sterndünen frei; Eine spektakuläre Erscheinung und einzigartig auf der Erde. Sind die im Landesinneren niedergegangen Regenfälle ergiebig genung, stauen sie sich in den Vleis zwischen mächtigen Sterndünen.

In the Great Sand Sea, Tsauchab-Rivier:
Anyone who wants to experience the interior of the Great Sand Sea in the area of "Sossus-Vlei" and "Dead-Vlei" has to drive 80 km further West on the access road when coming from the desert station of Sesriem. The "pad" on the right is easily recognizable in the picture. The Tsauchab Rivier keeps the fl at valley free of approaching, yet sidelining star dunes since ancient times; spectacular and unique appearance on earth. If the rains that have fallen inland are copious enough, they will accumulate between colossal star dunes in the vleis.
Walvis Bay; Vogelparadies
Kaum zu glauben, dass in direkter Nachbarschaft zum neu errichteten Einkaufszentrum von Walvis Bay eine solche Erscheinung findet. Nur aus dem Flugzeug ist sie in dieser spektakulären Farbenpracht erschließbar und hier ist nur ein kleiner Ausschnitt wiedergegeben. Natürlich fallen sofort diese Farben des Wassers auf. Sie wechseln in zum Teil völlig autarken bis zusammenhängenden Teichen von hellblau nach grün, nach dunkelblau, nach orange und gelb. Je nach Jahreszeit finden Schwärme von sehr scheuen Flamingos und anderen Vögeln hier ihre Nahrung.

Walvis Bay; Birds Paradise
It's hard to believe that this incredible phenomenon could be found in the immediate vicinity of the newly built shopping centre of Walvis Bay. In this spectacular colour splendour, it is only accessible from the plane and even so, only a small section could be reproduced here. Of course, it is the colours of water that are immediately attracting attention. They change in completely self-sufficient or coherent ponds, from light blue to green, to dark blue, to orange and yellow. Depending on the season, flocks of very shy flamingos and other birds find their food here.depending on the season.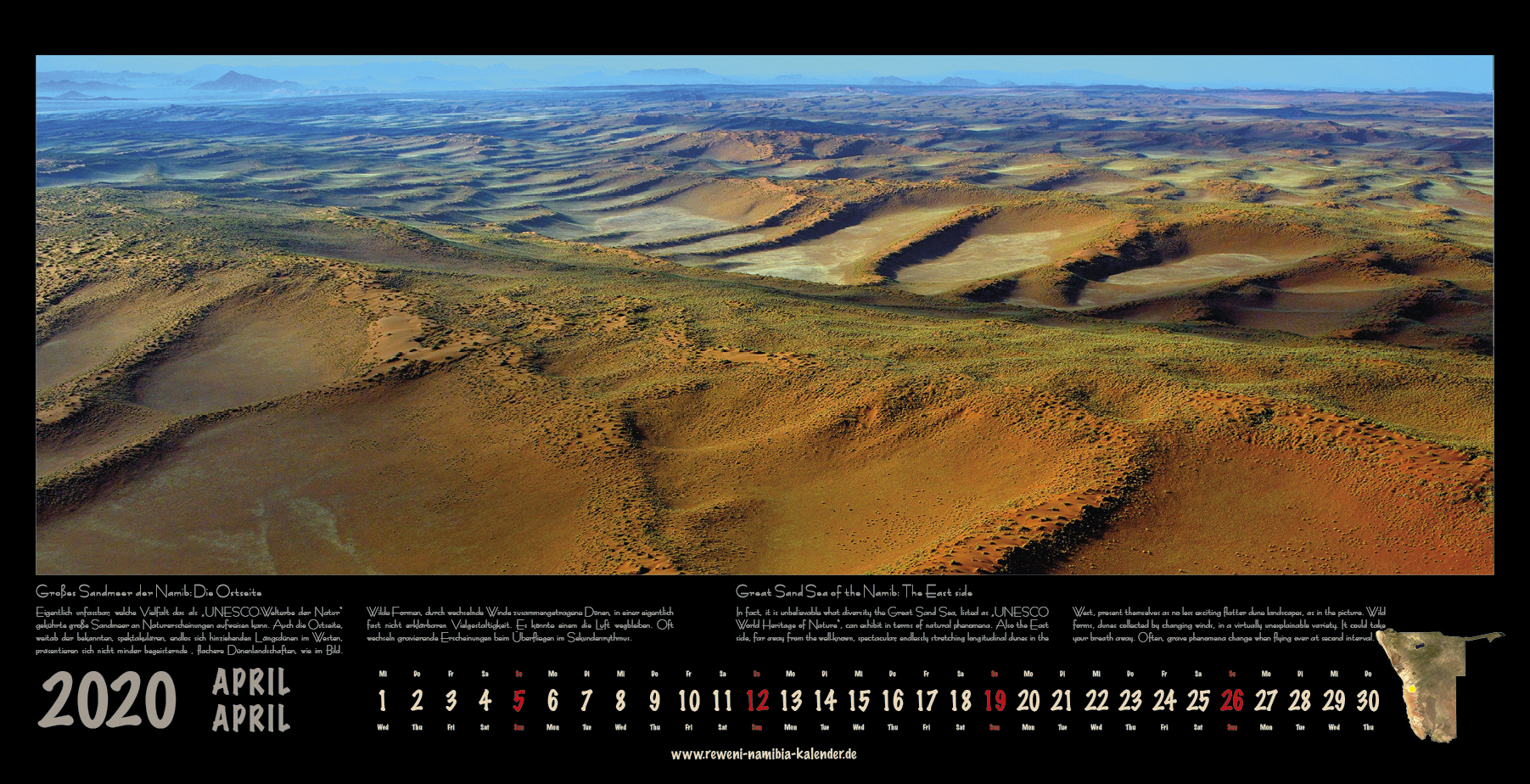 Großes Sandmeer der Namib: Die Ostseite
Eigentlich unfassbar, welche Vielfalt das als "UNESCO-Welterbe der Natur" gekührte große Sandmeer an Naturerscheinungen aufweisen kann. Auch die Ostseite, weitab der bekannten, spektakulären, endlos sich hinziehenden Längsdünen im Westen, präsentieren sich nicht minder begeisternde, flachere Dünenlandschaften, wie im Bild. Wilde Formen, durch wechselnde Winde zusammengetragene Dünen, in einer eigentlich fast nicht erklärbaren Vielgestaltigkeit. Es könnte einem die Luft wegbleiben. Oft wechseln gravierende Erscheinungen beim Überfliegen im Sekundenrythmus.

Great Sand Sea of the Namib: The East side
In fact, it is unbelievable what diversity the Great Sand Sea, listed as "UNESCO World Heritage of Nature", can exhibit in terms of natural phenomena. Also the East side, far away from the well-known, spectacular, endlessly stretching longitudinal dunes in the West, present themselves as no less exciting flatter dune landscapes, as in the picture. Wild forms, dunes collected by changing winds, in a virtually unexplainable variety. It could take your breath away. Often, grave phenomena change when flying over at second interval.
Vornamib: Erongo-Gebirge, Ameib-Ranch
Welche gigantischen geologischen Dimensionnen sich hinter dem Erongo-Gebirge verbergen, kann man nur durch einen Besuch erfahren. In der Zeit der Gondwanatrennung war das "Erongo" ein Vulkan, der etwa zwei Millionen Jahre tätig war. Als sich seine erruptive Tätigkeit erschöpfte, sackte der gesamte Vulkan als ein Ringkomplex von etwa 35 km zusammen, eine sogenannte Caldera bildend. Durch Verwitterung des Magmagesteins entstanden Felsformationen in atemberaubenden Erscheinungen und Dimensionen. Hier, im Hintergrund die Felsformation des Elefantenkopfes. Die Ameib-Ranch liegt am südwestlichen Rand eingebettet in den Erongo-Gebirgskomplex.
Vornamib: Erongo Mountains, Ameib Ranch
What gigantic geological dimensions hide behind the Erongo Mountains can only be experienced by a visit. During the time of the Gondana-breakup, the he "Erongo" was a volcano. It was active for about two million years. The entire volcano collapsed as a 35 km ring complex, as its erruptive activity subsided, forming a so-called caldera. Shaped by the weather, the ignous rock formations emerged in breathtaking appearances and dimensions. Here, the rock formation known as elephant's head in the background. The Ameib Ranch is nestled on the Southwestern edge in the Erongo Mountain complex.
Sukkulenten Karoo:
Nicht nur diese Felslandschaften mit den sich an Bergen hochziehenden, roten Sandflächen sind außergewöhnliche Erscheinungen in der Namib.
Als einzigartig anzusehen sind schmale Dünenzüge die, in der besonderen Erscheinung als Barchandünen, aus der davor liegenden Ebene kommen. So richtig spektakulär werden diese jedoch, wenn sie über eine schmale Felsenlücke hinwegkriechen und sich auf der anderen Seite des Berges fortsetzen, bis sie sich dort in einer einzelnen, der letzten Barchane auslaufen.

Succulent Karoo:
These rocky landscapes with red sand rising up the mountains are not the only extraordinary phenomena in the Namib. Narrow chains of dunes can be seen in a unique form: That of barchan dunes, which are coming from the plains. These are particularly spectacular when they crawl over a narrow gap in the rock and continue on the other side of the mountain, until they leak out in a single last barchan.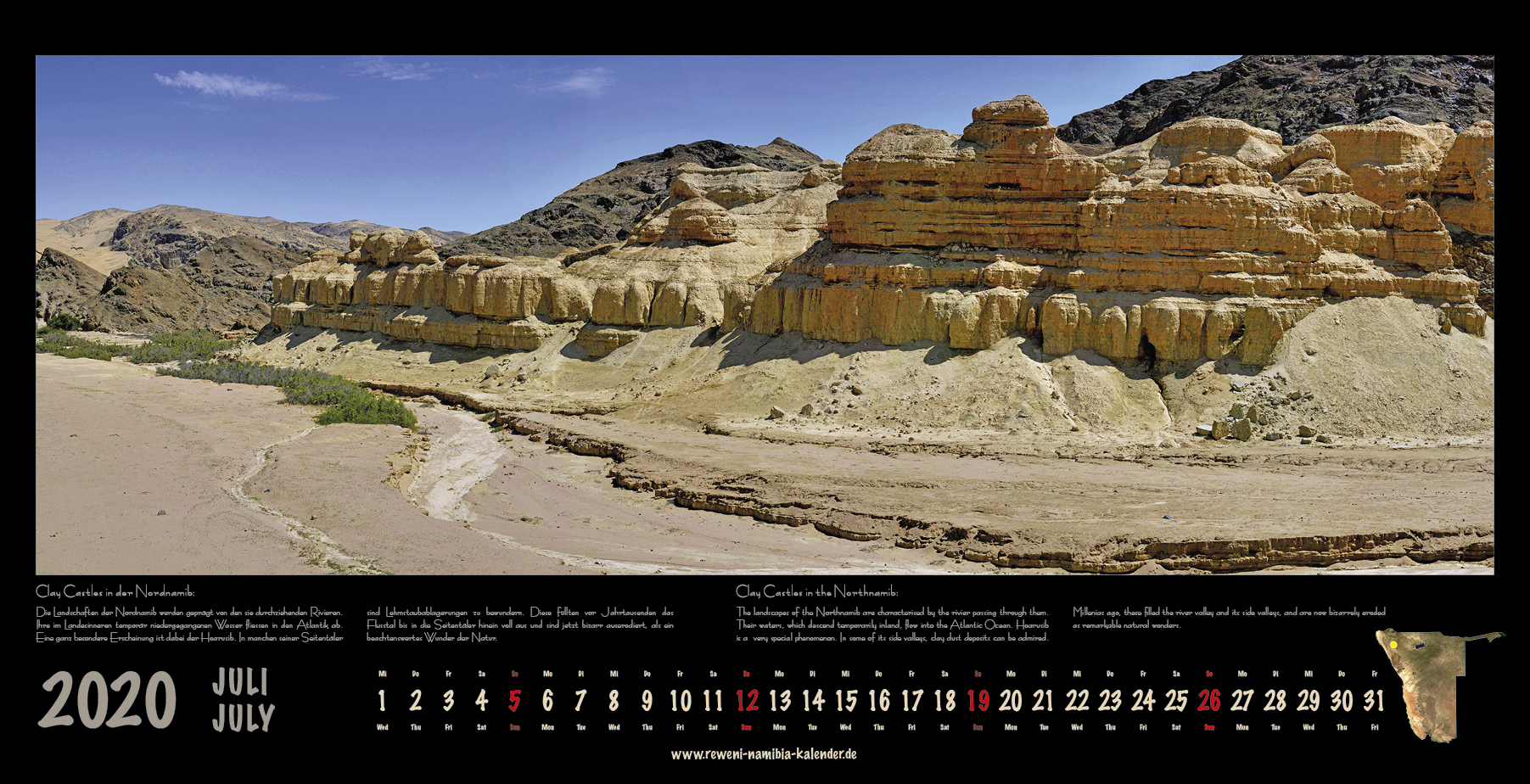 Clay Castles in der Nordnamib:
Die Landschaften der Nordnamib werden geprägt von den sie durchziehenden Rivieren. Ihre im Landesinneren temporär niedergegangenen Wasser fliessen in den Atlantik ab. Eine ganz besondere Erscheinung ist dabei der Hoarusib. In manchen seiner Seitentäler sind Lehmstaubablagerungen zu bewundern. Diese füllten vor Jahrtausenden das Flusstal bis in die Seitentäler hinein voll aus und sind jetzt bizarr auserodiert, als ein beachtenswertes Wunder der Natur.

Clay Castles in the Northnamib:
The landscapes of the Northnamib are characterised by the rivier passing through them. Their waters, which descend temporarily inland, flow into the Atlantic Ocean. Hoarusib is a very special phenomenon. In some of its side valleys, clay dust deposits can be admired. Millenias ago, these filled the river valley and its side valleys, and are now bizarrely eroded as remarkable natural wonders.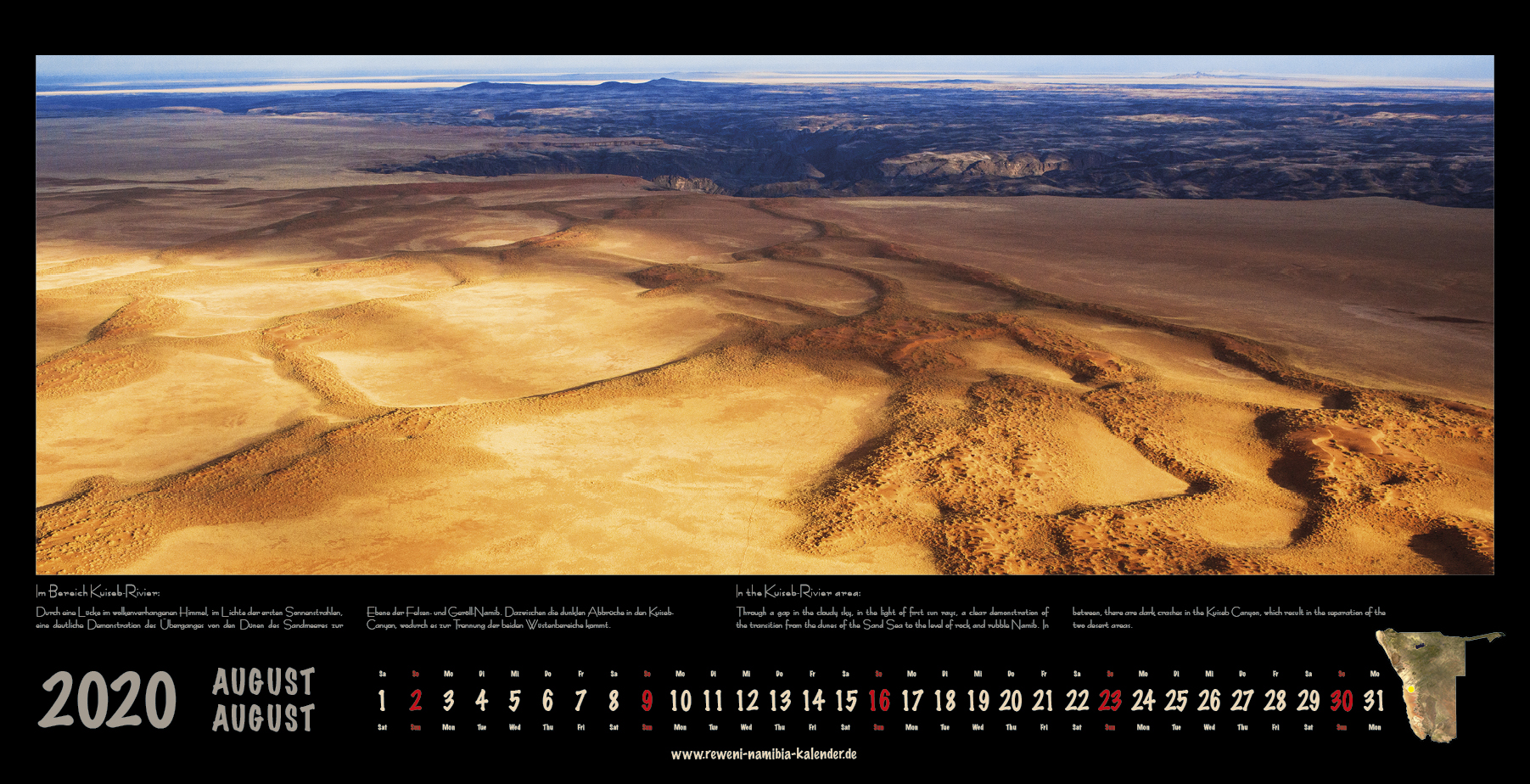 Im Bereich Kuiseb-Rivier:
Durch eine Lücke im wolkenverhangenen Himmel, im Lichte der ersten Sonnenstrahlen, eine deutliche Demonstration des Überganges von den Dünen des Sandmeeres zur Ebene der Felsen- und Geröll-Namib. Dazwischen die dunklen Abbrüche in den Kuiseb-Canyon, wodurch es zur Trennung der beiden Wüstenbereiche kommt.

In the Kuiseb-Rivier area:
Through a gap in the cloudy sky, in the light of first sun rays, a clear demonstration of the transition from the dunes of the Sand Sea to the level of rock and rubble Namib. In between, there are dark crashes in the Kuiseb Canyon, which result in the separation of the two desert areas.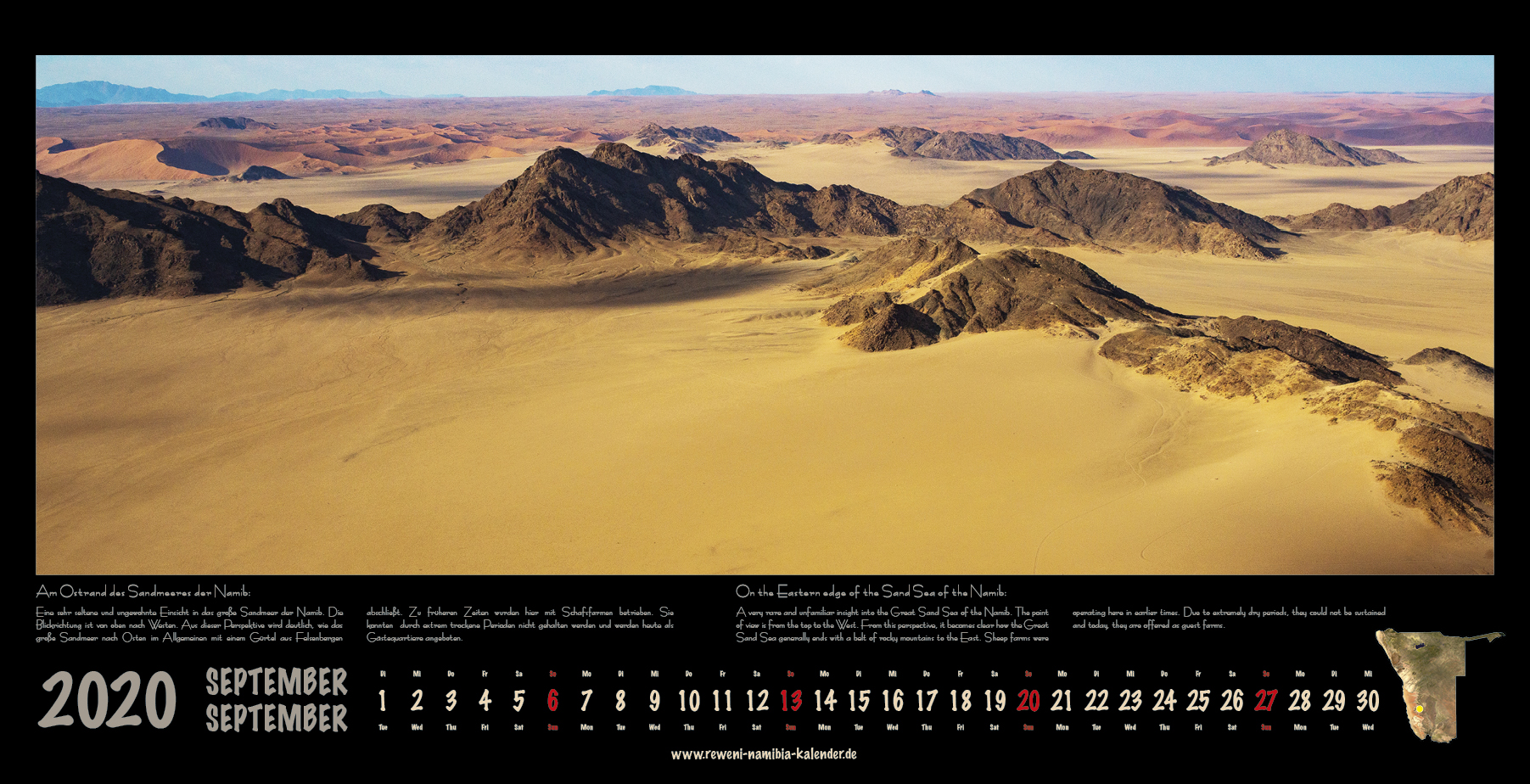 Am Ostrand des Sandmeeres der Namib:
Eine sehr seltene und ungewohnte Einsicht in das große Sandmeer der Namib. Die Blickrichtung ist von oben nach Westen. Aus dieser Perspektive wird deutlich, wie das große Sandmeer nach Osten im Allgemeinen mit einem Gürtel aus Felsenbergen abschließt. Zu früheren Zeiten wurden hier mit Schafsfarmen betrieben. Sie konnten durch extrem trockene Perioden nicht gehalten werden und werden heute als Gästequartiere angeboten.

On the Eastern edge of the Sand Sea of the Namib:
A very rare and unfamiliar insight into the Great Sand Sea of the Namib. The point of view is from the top to the West. From this perspective, it becomes clear how the Great Sand Sea generally ends with a belt of rocky mountains to the East. Sheep farms were operating here in earlier times. Due to extremely dry periods, they could not be sustained and today, they are offered as guest farms.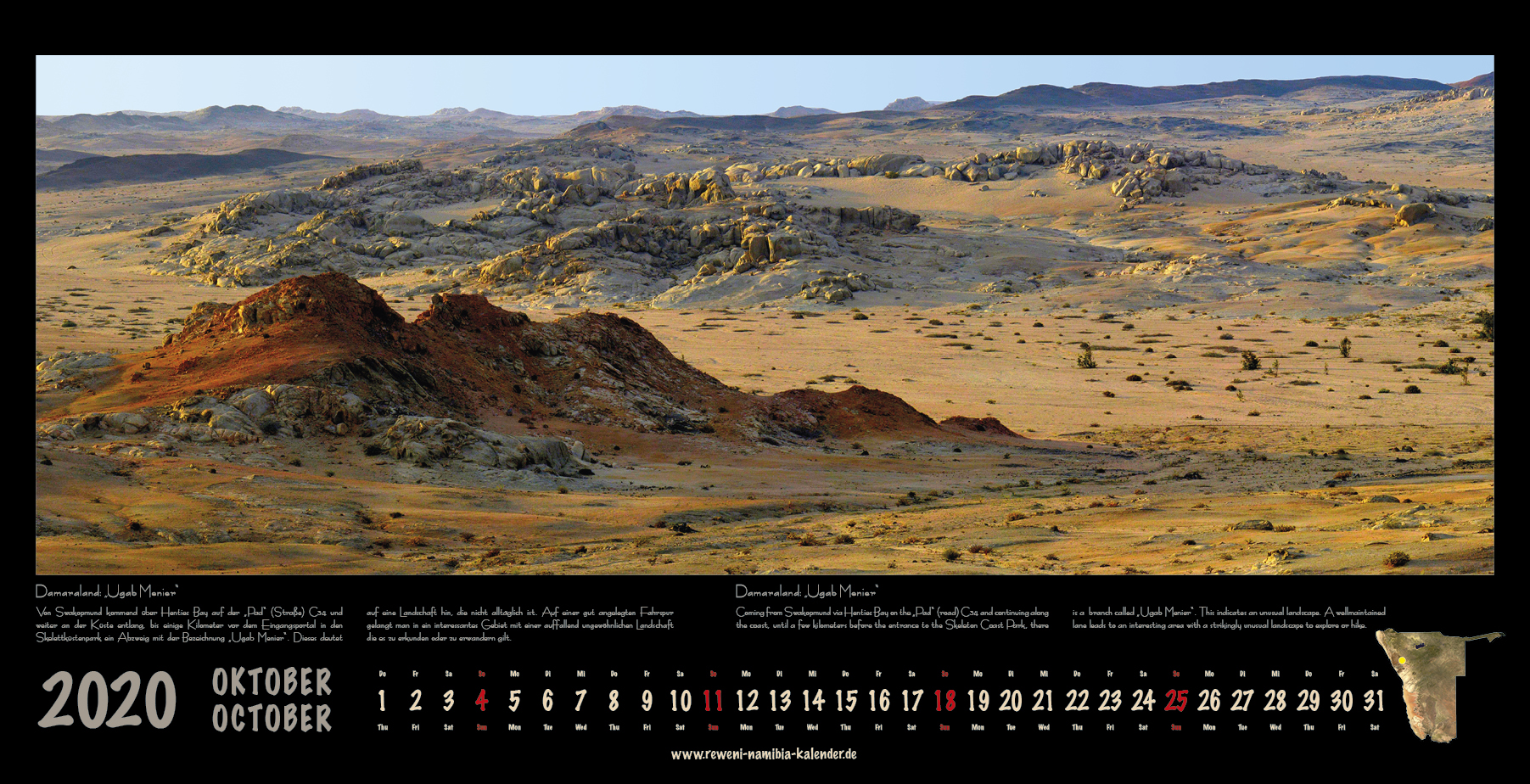 Damaraland: "Ugab Menier"
Von Swakopmund kommend über Henties Bay auf der "Pad" (Straße) C34 und weiter an der Küste entlang, bis einige Kilometer vor dem Eingangsportal in den Skelettküstenpark ein Abzweig mit der Bezeichnung "Ugab Menier". Dieses deutet auf eine Landschaft hin, die nicht alltäglich ist. Auf einer gut angelegten Fahrspur gelangt man in ein interessantes Gebiet mit einer auffallend ungewöhnlichen Landschaft die es zu erkunden oder zu erwandern gilt.

Damaraland: "Ugab Menier"
Coming from Swakopmund via Henties Bay on the "Pad" (road) C34 and continuing along the coast, until a few kilometers before the entrance to the Skeleton Coast Park, there is a branch called "Ugab Menier". This indicates an unusual landscape. A wellmaintained lane leads to an interesting area with a strikingly unusual landscape to explore or hike.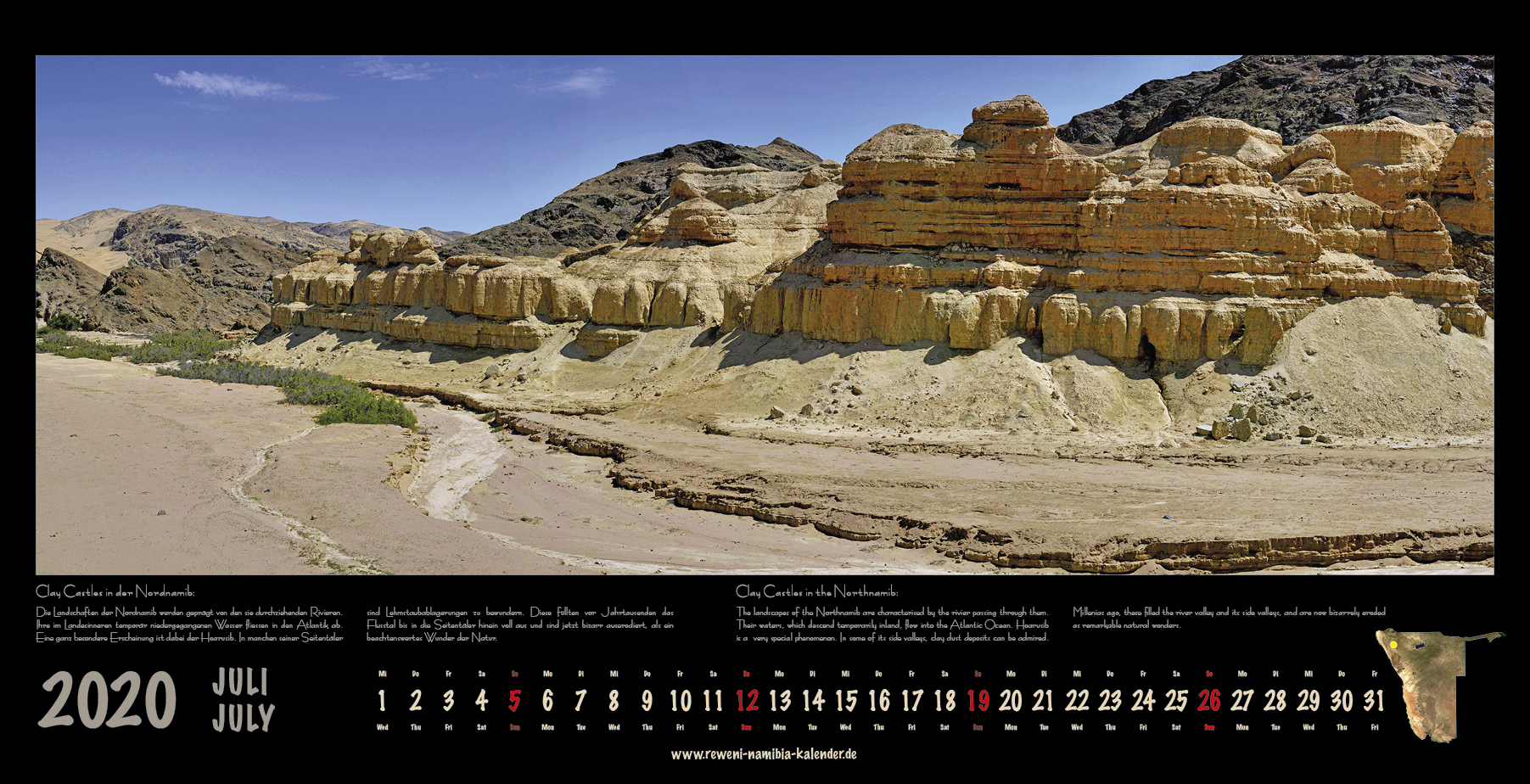 Sukkulenten Caroo: Farm "Klein-Aus-Vista"
Im Süden von Namibia, beginnend südlich der Pad B4 nach Lüderitz, öffnet sich ein Gebiet, welches klimatisch zwar in der ariden Wüste Namib liegt, aber nach der vorherrschenden Vegetation, den Sukkulenten benannt ist. Leider hat es dort schon viele Jahre keinen Regen mehr gegeben. In diesem Gebiet liegt die Farm "Klein-Aus-Vista". Ganz im Süden des Farmgeländes eine sehr markante Landschaftserscheinung eines Bergzuges aus senkrecht stehenden weißen Pegmatitadern. Das Land ist besiedelt von Köcherbäumen, Aloen und Sukkulenten.

Succulent Caroo: Farm "Klein-Aus-Vista"
In the South of Namibia, starting South of the Pad B4 to Lüderitz, an area can be found that is climatically in the arid desert Namib. However, it was named after the predominant vegetation, the succulents. Unfortunately, there has been no rain for many years. The farm "Klein-Aus-Vista" is located in this area. In the very south of the farm area, there is a mountain range, striking because of its vertical white pegmatite veins. The area is home to quiver trees, aloes and succulents.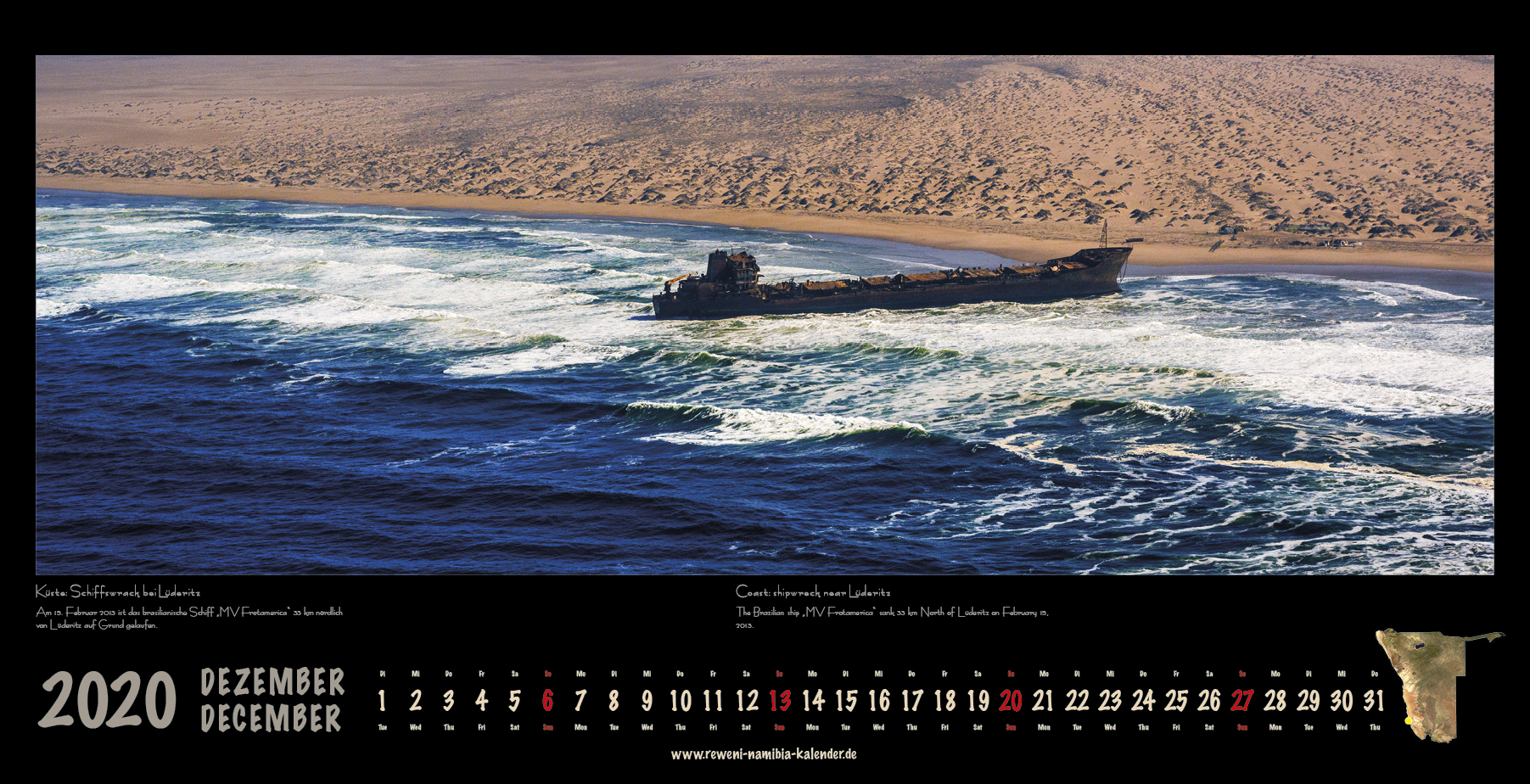 Küste: Schiffswrack bei Lüderitz
Am 15. Februar 2013 ist das brasilianische Schiff "MV Frotamerica" 33 km nördlich von Lüderitz auf Grund gelaufen.

Coast: shipwreck near Lüderitz
The Brazilian ship "MV Frotamerica" sank 33 km North of Lüderitz on February 15, 2013.